The open-top version of the insane beast made to commemorate the 100th anniversary of Ferruccio Lamborghini just came out. The 2017 Lamborghini Centenario LP770-4 Roadster has been revealed at the Monterey Car Week in California, US.
Just like the Coupé, and as we were expecting, the Centenario Roadster presents the same form and lines but, of course, with the top off. Better saying, as the Lamborghini Veneno Roadster, there's no roof at all for a better view of the exclusive and luxury interior — yeah, except in those rainy days.
To move the Centenario Roadster, the 6.5-liter naturally aspirated V12 engine, positioned right behind the driver's head, generates 770 horsepower and a maximum torque of 690 Nm (507 lb-ft). The Centenario Roadster completes the 0-62 run in 2.9 seconds and it's able to reach a top speed of over 350 km/h (217 mph).
Unlike the Coupé, which was showed to the world at Geneva Motor Show in bare carbon fiber, the Roadster comes with an exclusive silver color developed by Centro Stile Lamborghini called "Argento Centenario".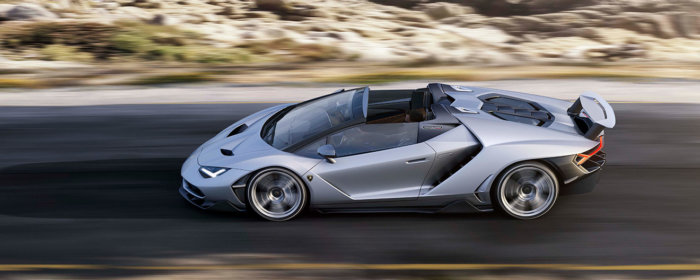 Inside, the car features a light brown "Terra di California" finish, with Bianco Polar leather inlays. In order to minimize turbulence, the Lamborghini Centenario Roadster features a channel located in the rear wall, in the back of the headrest, for the air to flow smoothly from the cabin towards the rear of the bonnet, also, creating additional rear downforce.
The Lamborghini Centenario Roadster is limited to 20 units, the same number of coupés, for a total of 40 vehicles, already sold out. Each roadster has been sold for a trifle of $2.23 million, which means some thousand dollars more the coupé.